Rockland Greenway Signage Project Launches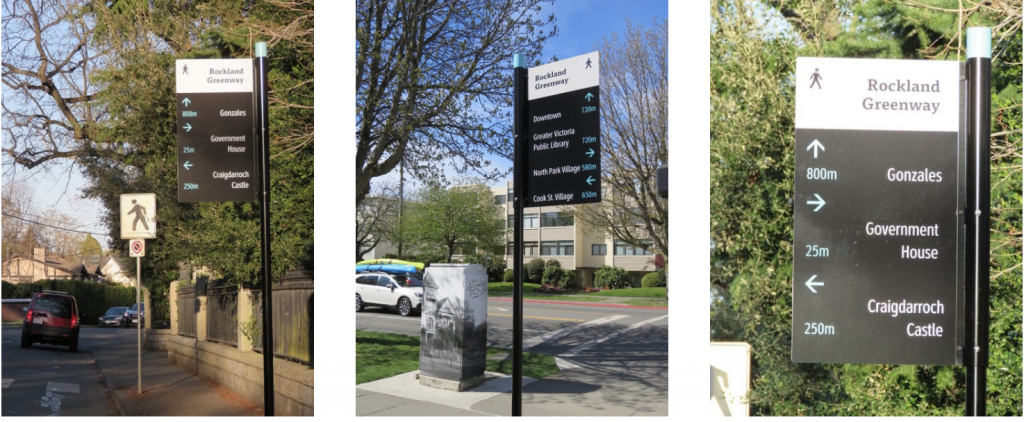 ---
Have you seen the new greenway signs along Rockland? The signs orient pedestrian and bicycle traffic, providing directions and approximate distances to major neighbourhood landmarks, like Government House, Craigdarroch Castle, and the Art Gallery of Greater Victoria.
The Greenway signs are the result of years of collaboration between the Rockland Neighbourhood Association, the City of Victoria, and neighbouring schools and organizations. We're thrilled to see the signs finally posted.
But what exactly is a Greenway, you ask?
Victoria is striving to build upon its natural assets to become a more walkable city. The Greenways network is a grid of quieter streets and paths, offset from the arterial routes that accommodate the bulk of vehicle traffic. Serving the Rockland neighbourhood, the major Greenways are St. Charles Street (connecting the Stadacona village with the Fairfield Plaza village), Moss Street (the primary route for elementary, middle and secondary students, from Clover Point to the Fernwood village) and Rockland Avenue/Courtney Street that gives us easy access to Oak Bay Avenue and to the Inner Harbour. There are also some minor connections including Lotbiniere Avenue and Green Oaks Terrace.
In 2013, the Association worked with Central Middle School to secure a Greenways grant to initiate improvements to the portion of the Moss Street Greenway that bisects the school yard. Under the leadership of teacher Kathie Cross, that project expanded to include many more funders resulting in the playgrounds, natural areas and gardens that exist today.
In 2016, the City started work on 'placemaking' and 'wayfinding' to standardize signage that directs pedestrians and cyclists. Our Association teamed up with our Cultural partners and the City to implement the signage process to direct newcomers in the downtown area to our major cultural attractions.
The Association and Craigdarroch Castle each put forward $2000 and the commitment of volunteer time, and the City matched that with a $5000 grant from the 'My Great Neighbourhood' program.
Once the wayfinding guidelines were approved, we implemented the process to identify suitable locations and content for a series of signs that lead pedestrians from Pioneer Square (Rockland at Quadra) up the Greenway to the Art Gallery, Government House and Craigdarroch Castle. Due to limitations imposed by the wayfinding guidelines, we were unable to include other cultural partners such as Langham Court Theatre and Wentworth Villa in this first phase.
City staff took it from there, designing, manufacturing and installing the four signs along the Rockland Greenway – at Quadra, Cook, Moss and Joan Crescent. In addition to our target destinations, the signs also identify the direction and distance to nearby neighbourhoods and villages. The obverse of the signs list downtown destinations.
In our next phase, we would like to add smaller signs for Langham Court Theatre and for Wentworth Villa, and we would like the signage to continue west down Courtney all the way to the Harbour linking to the David Foster Way.
In the meantime, these signs are a welcome sight for visitors and residents.