Neighourhood Boundaries: City of Victoria Seeks Input
Greetings Rockland Neighbours;
The City of Victoria seeks input regarding a number of potential neighbourhood boundary changes. This map shows some of the changes contemplated: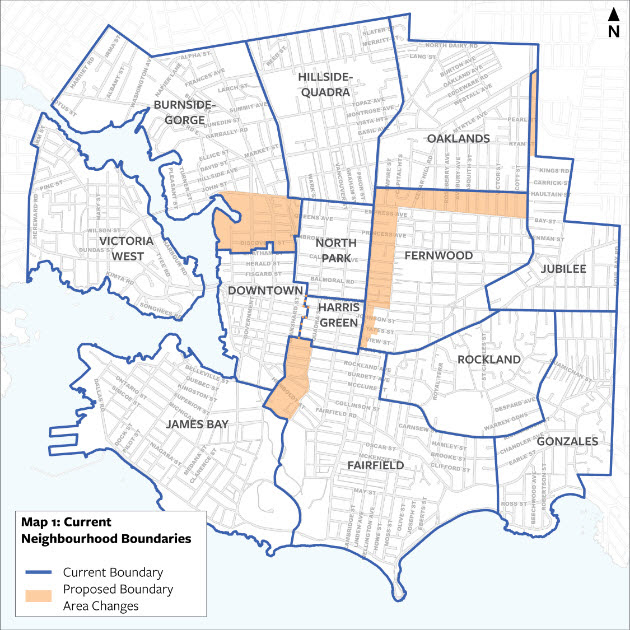 Not shown on the map is a potential change to the Rockland-Gonzales boundary. The City asks three questions below (question #2 affects Rockland);
Should Council:
• Recognize the Gonzales Neighbourhood Association and its land use committee as representative of the Gonzales neighbourhood?
• Have Rockland represent Gonzales on land use issues under a unified Gonzales-Rockland neighbourhood association.
• Remain as is, and have the Fairfield Gonxales Community Association continue represent for land use issues.
If you would like to respond to these questions, please go to the Have Your Say website, register, select the "Neighbourhood Boundaries" tab, and select the "Fairfield, Gonzales & Rockland Land Use Decision" tab. The survey runs until Monday 7th June 2021.
Three information points for the RNA executive:
• While the Gonzales neighbourhood has formed a legally constituted society, the City considers Gonzales part of the Fairfield-Gonzales Neighbourhood Association for key matters such as land use planning. We recognize that Gonzales differs from Fairfield and they would like their own Neighbourhood Association (option #1)
• To learn more about the matter, please go to the Gonzales Association website, scroll down to "GNA Correspondence", and view Gonzales (1) seeks recognition as a Neighbourhood Association, and (2) doesn't ask to merge with Rockland.
• Without modification, there would be challenges for the current RNA organization to provide services to a larger region. How a unified Rockland/Gonzales Neighbourhood Association (option #2) would be structured/administered has not been discussed.
We hope everyone is in good health.
Regards,
Art Hamilton
on behalf of the RNA executive