NOTICE – Fort Street Road Safety Improvements – ZOOM Presentation (APRIL 19)
UPDATE APRIL 28, 2023
The Rockland Neighbourhood Association met with City staff about the Fort Street changes. Presentation slides from the meeting are posted:
UPDATE APRIL 15th, 2023:
A number of residents have communicated with the RNA about the City's planned roadwork on Fort Street, including the removal of the turnaround "slipway" above the Shell station. Ross Kenny and Sarah Webb from the transportation section of Victoria's Engineering and Public Works Department have agreed to meet by Zoom with residents next Wednesday 19 April at 7 pm to discuss the roadwork and answer questions. All are welcome to participate. If you would like an invitation to join the Zoom meeting, please send an email to: info@rockland.bc.ca and copy/paste the following text into the subject line: SEND ZOOM LINK FOR 19 APRIL MEETING.
Construction on Fort Street has been announced between April 2023 to January 2024, and has already commenced. A notable change affecting the Rockland neighbourhood is the left turn slip lane will be removed at Fort and Yates. For those travelling from Craigdarroch and Joan Crescent wanting to travel west, this change will require alternate route planning.

If you would like to comment on this change please direct emails to the following staff (below) at the City of Victoria, and please Cc Rockland Councillor Liaison: mgardiner@victoria.ca and RNA Traffic: traffic@rockland.bc.ca
Fort St East_Construction_Notice (.pdf)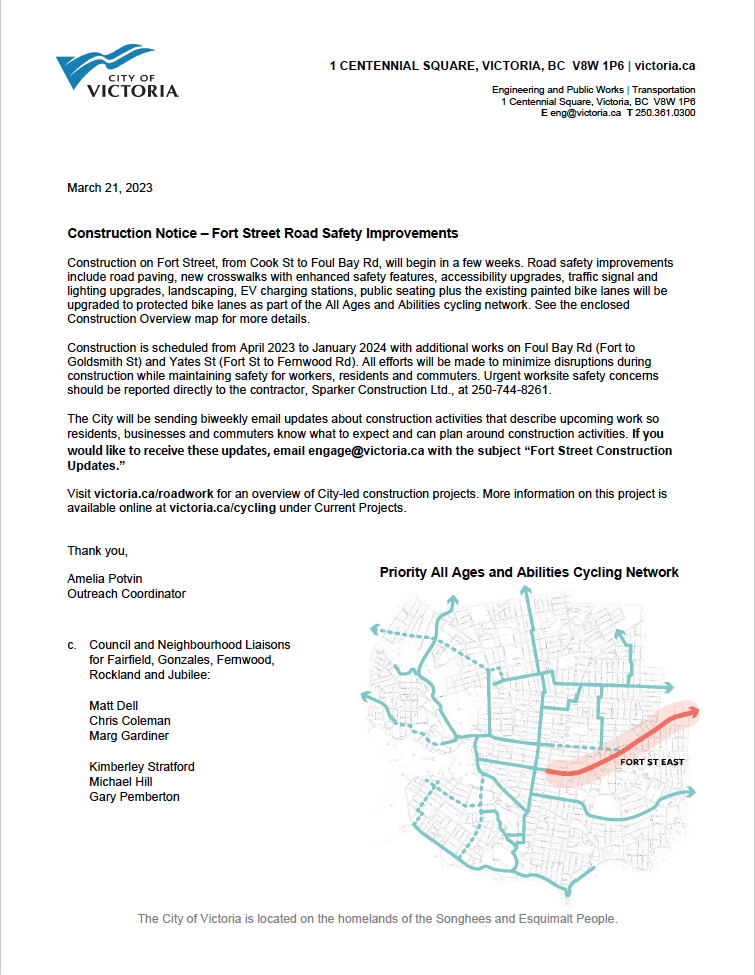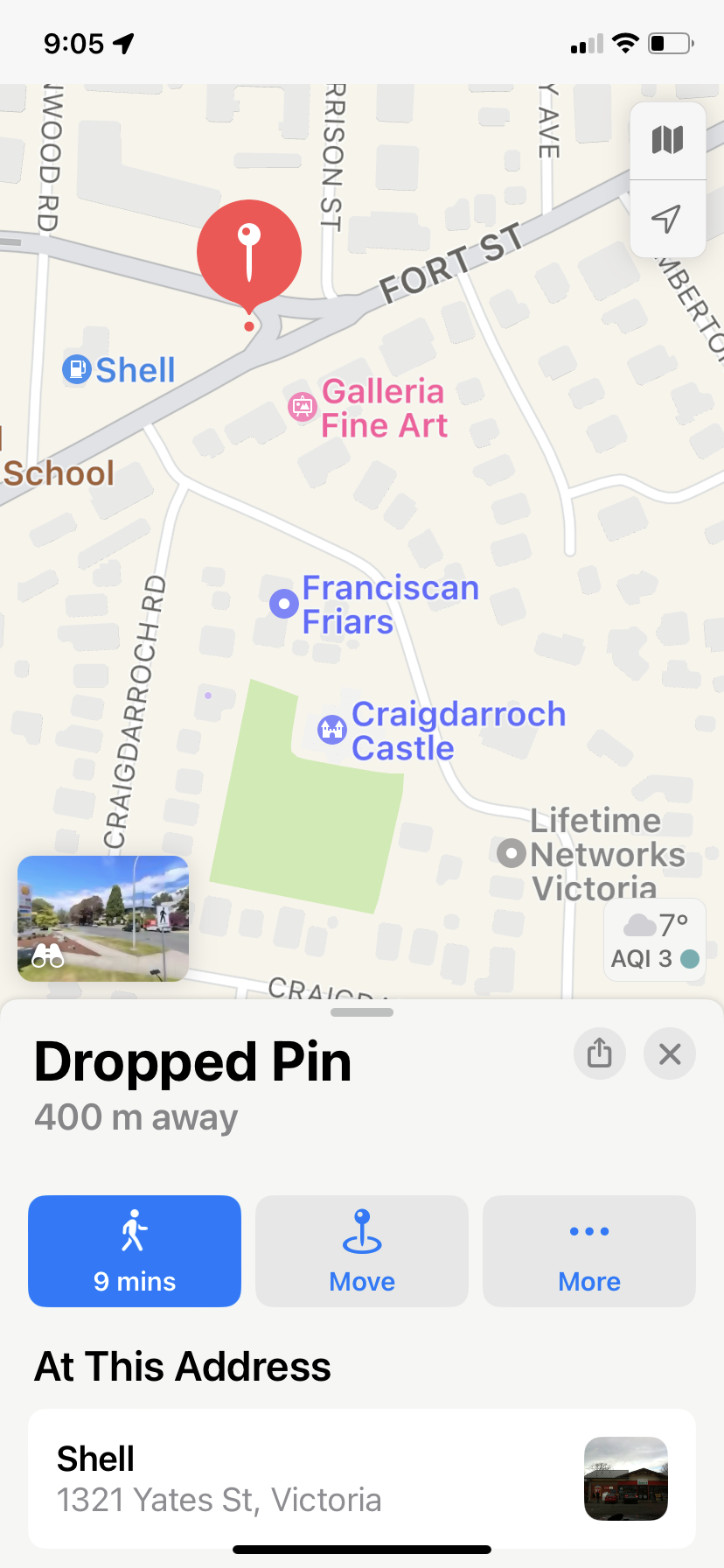 City of Victoria contact emails:
Philip Bellefontaine – Director of Engineering and Public Works
Public Works (24 hours)
250.361.0400
pw@victoria.ca
Engineering eng@victoria.ca
Amelia Potvin apotvin@victoria.ca
Communications and Outreach Coordinator
Engineering and Public Works
City of Victoria
1 Centennial Square, Victoria BC V8W 1P6
T. 250.361.0300
Sarah Webb swebb@victoria.ca
Manager, Transportation Planning & DevelopmentEngineering & Public Works Department
City of Victoria
250-686-7432

Ross Kenny rkenny@victoria.ca
Fred Billingham fbillingham@victoria.ca
Timothy Hewett THewett@victoria.ca
Stephanie Williams swilliams@victoria.ca
Charles Davie cdavie@victoria.ca

Rockland Neighbourhood Traffic
RNA Traffic traffic@rockland.bc.ca

Rockland Neighbourhood Council Liaison
Marg Gardiner mgardiner@victoria.ca

Mayor
Marianne Alto malto@victoria.ca
Letter from City further explaining changes
Letter from City further explaining changes
From: Amelia Potvin <apotvin@victoria.ca>
Date: Thu, 6 Apr 2023 at 09:42
Subject: RE: proposed traffic changes — Fort Street at Joan Crescent
Good morning Chantal,
Thank you for contacting the City of Victoria about the Fort Street Road Safety Improvements.
You are correct, the left turn slip lane at Fort and Yates will be removed. Slip lanes don't require motorists to stop, leading to higher speeds, more rear-end collisions, and reduced pedestrian safety. The City will be using the space for enhanced pedestrian and bicycle crossings, new trees and landscaping, and public seating. We are unable to provide the exact timing of this change, however the zone is one of the candidates for a laydown area for contractor use so could be reconfigured this month. If you'd like to receive construction updates on this project to stay informed about what's happening when, I can add you to our biweekly email updates.
We will be adding a new traffic signal with dedicated left turn lane at Fernwood Road to provide an option to turn left for those travelling east on Fort Street. Pedestrian crossings will also be upgraded. For those travelling from Craigdarroch and Joan Crescent wanting to travel west, this change will require alternate route planning. Cutting across Fort and through the gas station is not going to be safe or lawful. We appreciate you flagging this zone to keep an eye on.
With any changes to the transportation network, there is a period of adjustment as people adapt their travel patterns and become familiar with route changes. As a regular part of transportation capital projects, the City will collect data and monitor traffic patterns, volumes and speeds.
In 2023, we plan on paving Joan Crescent from Fort St to Rockland Ave. As a part of this project, staff will assess volumes on Joan and if traffic calming is warranted, the City would evaluate options and reach out to the neighbourhood association.
Traffic volumes on Rockland have not substantially changed since the Richardson Project was completed. Data collected in 2022 shows a modest decline in volumes on some blocks of Rockland (eg: 1100 block) and a modest increase on others (eg: 1400 block). All volumes remain well within thresholds for this street classification. We do, however, have Rockland for review within our traffic calming program in 2023 noting that its status as a collector road means that there are specific tools and approaches which are more suitable than others. In this case, the narrow width, on street parking and driveway placement can work in our favor. In 2021 we tested out concrete medians on Rockland @ Royal Terrace and Pemberton as pinch points, to narrow the road and slow vehicles down. There may be other similar approaches we deliver. It is a balance as we know that on-street parking is valuable to residents and we want to ensure that any application works for emergency services.
Please let me know if I can answer any other questions and don't hesitate to get back in touch if you have any other concerns.
Sincerely,
Amelia Potvin <apotvin@victoria.ca>
Pronouns: she, her
Communications and Outreach Coordinator
Engineering and Public Works
City of Victoria
1 Centennial Square, Victoria BC V8W 1P6
T. 250.361.0300