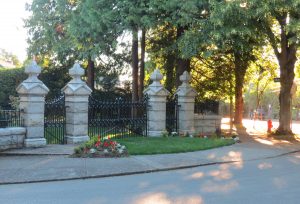 Rockland is a historic neighbourhood in Victoria, located on an escarpment overlooking Juan de Fuca Strait and the Olympic Mountains. The Rockland area was developed in the early 1880's from a 500-acre Douglas Estate called "Fairfield Farm".
The first Governor of the Colony of Vancouver Island, Richard Blanshard, received 1,000 acres of land known as the "Governor's Reserve", encompassing Rockland and Fairfield. Joseph Despard Pemberton, the first land surveyor in the Colony, purchased the portion of Rockland from Pemberton Road east, and Sir James Douglas, the Colony's second Governor, purchased the portion west from Government House. The first subdivision plan for Rockland was registered in 1865. Lots were large, from five to seven acre estates.
Designed to be a prestigious neighbourhood, Rockland became known as Victoria's "Nob Hill". Wealthy entrepreneurs, bankers, and politicians commissioned architects to design mansions that would reflect their cultural values. One of the most popular architects was Samuel Maclure (1860-1929) who had many commissions in Rockland. His designs included Tudor revival styles with half timbering, chalet-style homes, and shingled Arts and Crafts design. Maclure's contemporary, Francis M. Rattenbury (1867-1935), famous for designing the Parliament Buildings, also designed a few residences in Rockland. Many other well-known architects, including John Teague, Percy Leonard James, Thomas Hooper, William Ridgway Watson and Ralph Berill also designed homes in Rockland.
In the 1940s, a housing shortage due to the war led to many mansions being sub-divided into apartments, a few renting as high as $95/month. This trend has continued to this day, although condominiums and townhouse developments are now the norm.